Top 5 Tourist Destinations in Tricity
Top 5 tourist destinations in Tricity area, which includes Chandigarh, Mohali, and Panchkula, has a wide variety of tourist attractions. Sukhna Lake, an attractive man-made reservoir in Chandigarh, provides boating and stunning sunsets. The Rock Garden, located nearby, is a work of recycled art that includes sculptures and mosaics. Gurudwara Nada Sahib in Panchkula is a respected Sikh temple with a history dating back to Guru Gobind Singh Ji. Pinjore garden displays a beautiful combination of Mughal and Rajasthani architectural traditions.  Finally, the Cactus Garden in Panchkula displays an impressive collection of arid-region species. These locations provide a broad and enjoyable Tricity experience.
 List of top 5 tourist destinations in tricity are:
Rock garden in  Chandigarh is a living tribute to Nek Chand Saini's creativity and dedication towards art and the environment. Visitors can find themselves in a world of environmental awareness at this location and where wasted materials are given new life as breathtaking sculptures. A visit to the Rock Garden is more than simply a tourist attraction; it is a journey into the endless universe of human creativity.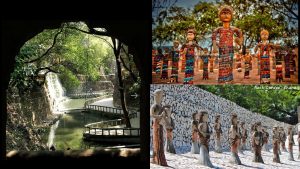 Sukhna lake in Chandigarh, offers a variety of recreational opportunities. Boating is a popular pastime, with paddle boats and rowboats available for rent. The lovely walking and jogging trail around the lake is ideal for fitness or a leisurely stroll. Picnics on the well-kept grounds are popular among families. Birdwatching is very enjoyable, with ducks and other species in residence. There are food kiosks and cafés for refreshments. The lake holds cultural events and festivals. Sukhna Lake is famed for its breathtaking sunsets, making it a tranquil area to unwind and connect with nature in the middle of the city.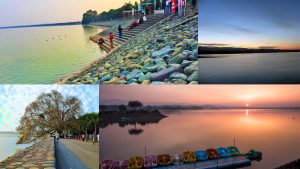 3.Pinjore gardens:
Pinjore Gardens also known as Yadavindra Gardens, is a famous Mughal-style park in the Indian town of Pinjore. It was built across 100 acres in the 17th century by Nawab Fidai Khan, a Mughal administrator. Terraced lawns, vivid flower beds, flowing water channels, and amazing architectural buildings adorn the garden. The Sheesh Mahal, a palace enhanced with beautiful mirror work, is its focal point. Pinjore Gardens is a favorite picnic and family trip venue since it provides peaceful relief with walkways for leisurely strolls. It is a cultural gem that displays a beautiful combination of Mughal and Rajasthani architectural traditions.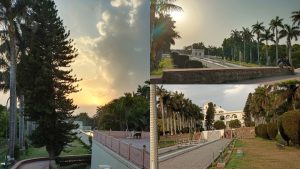 4.Gurudwara Nada sahib:
In Panchkula, Haryana, India, there is a famous Sikh temple called Gurudwara Nada Sahib. It has great historical and theological significance since Guru Gobind Singh Ji, the tenth Sikh Guru, is connected to it. The Gurudwara gained its name because Guru Gobind Singh Ji stopped here in 1702 and was warmly welcomed by a local believer named Nada. The holy place, which is a haven of spiritual devotion and peace for Sikhs and guests, is a stunning white marble structure with a gilded dome. Additionally, it provides langar (community kitchen) services, which serve free meals to everyone, regardless of background.
National Cactus and Succulents Botanical Garden and Research Centre, often known as The Cactus Garden, is a unique and popular botanical garden situated in Panchkula, Haryana, India. It's one of the biggest cactus gardens in Asia, covering more than 7 acres. The garden, which opened in 1987, is a haven for lovers of desert plants since it features a wide range of cactus and succulent species from all over the world. The Cactus Garden provides an informative and creatively pleasing experience that highlights the beauty and adaptability of arid-region flora through its breathtaking desert vistas, thematic sections, and a wide range of sharp and fleshy plants.
Conclusion:
the Tricity region, which includes Chandigarh, Mohali, and Panchkula, has a vast selection of top 5 tourist attractions to suit a wide range of interests and tastes. Sukhna Lake, with its peaceful waters and gorgeous surroundings, provides a peaceful getaway as well as a variety of opportunities for recreation. The Rock Garden is a proof of human creativity, reusing waste materials to create an interesting art area. The spiritual importance of Gurudwara Nada Sahib welcomes believers and tourists alike, while the Cactus Garden shows the distinctive beauty of arid-region vegetation. Together, these sites provide a rich tapestry of experiences that merge art, nature, culture, and spirituality, making the Tricity a tempting destination for tourists looking for a unique experience.