Top 10 Dieticians To Help You Gain Physical and Mental Strength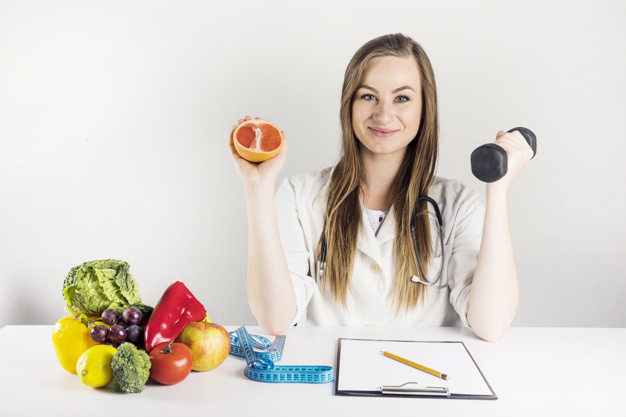 Are you struggling with your Weight Loss Plans and now looking for the Best dieticians In Panchkula who can assist you in overcoming your weight loss issues.
Before coming to Dieticians In Panchkula, let's understand few things about weight loss.
The first question that comes to mind is how to lose weight quickly?

You will come across numerous articles which will guide you to do multiple things like fasting, exercises, green tea. But following them all won't help you unless you work on the most basic and important thing i.e Diet Plans.
However, incorporating a healthy diet plan will help us to maintain body weight and inner strength.
Therefore, we need a good diet plan by a dietician which will help us to lose weight.But, now how to determine what to include or exclude from our daily diet plans.
Here we will discuss, how the best dieticians in Panchkula will help you with excellent diet plans:
Here, the role of dieticians comes into play where they actually work on all the areas of your diet, starting from knowing all your medical history, your regular meal plans and your daily routine.
In addition to that, they also analyze your living patterns, then they craft a special diet plan which will suit your body so that you can lose weight effectively and quickly in addition to live a healthy life.
Now if you search for "Best Dieticians In Panchkula", then you will find numerous options. Choosing the perfect one would become difficult for you.
Therefore, in order to help you, we have crafted a list of Top Dietitians In Panchkula who can help you in your weight loss journey.
Before creating this list of dieticians, we have analyzed all the essential factors which need to be analyzed before choosing a dietitian. For instance, their services, timings and their existing client reviews.
List of the Top 10 Best Dieticians in Panchkula
1.Dt Nupur Malhotra:
Dietician Nupur Malhotra is one of the Best Dieticians In Panchkula who is known best for helping her clients to lose weight effectively.
Moreover, a lot of clients have actually achieved their weight loss goals with Dr Nupur Malhotra. Customer satisfaction is considered to be the top priority at her clinic.
On the other hand, she has been providing her diet consultation services across the globe, you can easily connect with her with the help of Whats app or Email. Once you connect, she will help you with all your diet issues.
Services she offers,
Diet Therapy
Counseling
Planning
Nutritionist
Dietician
Food Plan Preparation
Nutritional Assessment
Diet and Nutrition Consultation
Get a Diet Plan For Weight Loss from her and see how she helps you to transform effectively.
Address:  House no. 79,  sector-17, Panchkula
Hours of Operation: Monday – Saturday (7:30 am – 4:00 pm)
Contact No: 09779117172
website: www.dietitiannupur.com
2. Nalini's Be- Lite:
While scrolling for the Best Dietician For Weight Loss in Panchkula, you will also come across Nalini's Be-Lite Diet Clinic.
Dietician Nalini is a leading name in providing affordable diet plans to all age categories who are dealing with weight loss issues.
However, before giving you the perfect diet plan, she goes through your medical history and issues which you are dealing with. After that she crafts a meal plan which will suit your body and helps you to transform.
Some of the Services which you can avail at her clinic:
Customized Diet Chart
Diet Planning
Weight Management Treatment
Ketogenic Treatment
Slimming Treatment
For Healthy Diet Plans, you must visit her Clinic at below given Address
Address:  House no. 94, Sector-2, Panchkula.
Hours of operation:  Monday – Friday (10:00am – 6:00pm)
Contact No: 9780643002
Website: www.dietitiannalini.com
3. Dietician Shreya's Family Diet Clinic:
Want to Lose Weight Quickly? Family Diet Clinic is one such stop where you can get Attractive Diet Packages according to your routine and medical history.
Different diet plans available at her clinic are:
Basic Diet Plans
Diseases Management Diet Plans
Other Diet Plans for Weight Loss
She is one of the Famous Dieticians in Panchkula, who is well known for her one month Weight Gain Diet Plan and Indian Keto Diet Plan.
Address: Dietician Shreya's Family Diet Clinic, SCO- 80, Sector-12 market, Panchkula
Hours of Operation: Monday – Sunday (10:00 – 7:00pm)
Contact No: 7307303835
Website: www.dietitianshreya.com
4. Dt Madhu Sharma: 
With Experience of about 48 years, Dt Madhu Sharma who is a member of the Indian Dietetic Association is known for providing a number of Services like Gastroenterology, Nutrition, And Pediatrics.
Moreover, she offers a diet plan which can be easily incorporated in your regular routine and doesn't feel like dieting.
Services she offers,
Counseling
Weight Gain Diet
Weight Control
Keto Diet
Nutrition
Address: Diet for life, House no.- 1679, sector-15, Panchkula
Hours of Operation: Monday- Sunday(9:00 -9:00 pm)
Contact No:  9872001679, 9779603918
5. Dr Raman Dhami:
Dietician Raman Dhami is an Ayurvedic physician by practice. She is one of the Best Known Dieticians In Panchkula for quickly shredding Extra Kilos.
Dr Raman Dhami, at Ask Diet Clinic, provides you with effective meals which can help you to lose weight quickly even if you are being overweight.
Address: Ask Diet Clinic, House No. – 836, Opposite Bel Factory, Sector -16, Panchkula
Hours of operation: Monday- Saturday( 10:00 – 7:00 pm)
Contact no: 94177880580
Website: www.askdiet.net
6. Dr Ruchi Goyal:
At Dietcare Nutrition, Dr Ruchi Goyal focuses majorly to solve your weight management issues even if you are dealing with any major health issues.
Dietician Ruchi Goyal is pro-efficient in suggesting Healthy Meal Plans which actually works and helps you to lose extra shreds quickly.
Furthermore, you can also avail weight loss diet consultation via Call or Whats app.
Address: Diet Care Nutrition, House No. – 532, Sector- 10, Panchkula
Hours of operation: Monday- Saturday(10:00- 6:00pm)
Contact No: 0172- 2581860, 9501528302
Website: www.dietcarenutrition.com
7. Sanjivani Ayurvedic and Weight Management:
If you are looking to lose weight naturally, then you can consider Sanjivni Ayurvedic for your diet plans.
They actually craft meal plans which include all the regular and natural homemade meals which actually helps effectively. On the other hand, they will also guide you with some home exercises for weight loss so that you can achieve your transformation goals.
Here are their contact details,
Address: Shop- 24 basement, sector- 16, Panchkula
Hours of Operation: Monday – Saturday(10:00- 2:00pm, 5:00- 7:00)
Contact no: 7947243603
Website: www.sanjivaniayurvedicclinic.com
8. Dr Anu's Diet And Ayurveda Clinic:
With the basic thought 'Health At Your Kitchen', Dr Anu Goyal has become the Favorite among Best Dieticians For Weight Loss In Panchkula. She is best known for fetching the most out of yoga Asanas and Panchkarma.
Services she offers:
Orthopedic Doctors
Dermatologists
Ayurveda Doctors
Clinics
Dietitians
Spine Specialist Doctors
Ayurveda Treatment Centers for Panchakarma
Ayurveda Clinics
M0reover, she guides you with everything you want, from a weight loss diet to yoga, exercises and many more.
Address: House no. – 934, Sector- 26, Panchkula Extension
Hours of operation: Monday- Sunday(9:30am- 7:00pm)
Contact no: 07947245126
Website: www.dietandayurveda.com
9. Dietician Aparna Diet And Wellness:
"Eat Healthily, Be Nutrition Wealthy" is the main mantra at Aparna Diet and Wellness Clinic.
As her mantra says, Dr Aparna guides you with all the essential elements which are crucial for you in day to day routine and are associated with your weight loss issues.
Moreover, you can avail her consultation directly over the call and Whats App as well.
Some of the weight loss Diet Plans available at the Clinic is as follows
Ayurveda Dieticians
Diabetic Diet Plan
Diet For Children
Keto Diet
Pediatric Dieticians
Hypertension Management
Skin And Hair Nutrition Management
Cholesterol Management
Address: aparnatagit@gmail.com
Hours of Operation: Monday – Sunday(9:00-7:00pm)
Contact no: 9888473015
Website: www.dtaparna.in
10. Get Nourished Diet Clinic:
The most unique feature offered at Get Nourished Diet Clinic is the simplicity of a meal plan. They especially focus on meals that are easy to make and can be included in your daily routine.
Sometimes, people find it difficult to follow a hardcore diet plan. Therefore, Get Nourished Diet Clinic started consulting people over basic diet plans which are easy to follow yet effective for weight loss.
Here are some diet plans which they offer to their potential clients,
Low Carb Diet Plan
Diet Plan for diabetics
Diet Plan for fatty liver
Address: SCF-14, main market, Peer Muchalla, Zirakpur
Hours of operation: Monday- Saturday(10:00-1:00 pm) (5:00- 7:00pm)
Contact No: 9779341676
For all those who desire to lose weight quickly this guide is a perfect place to land. Here, we have provided some of the Best Dieticians in Panchkula who can help you in scheduling a Healthy Eating Plan in your daily life.
According to our Lifestyle in Panchkula, almost all of us have felt the need for Dieticians and Nutritionists in life at some point of time. From this guide, you can easily make a choice of your Dietician according to your requirements.
Hope this guide is useful for you. If you have any query, you can leave your comment in the comment section.