Best college in Chandigarh
Chandigarh represents one of the country's developed cities. Among the Best Colleges in Chandigarh are many educational institutions offering excellent instruction in engineering, medicine, management, design, animation, hospitality, and tourism. There are several esteemed universities, both public and private, located in Chandigarh.
List of top college in Chandigarh:
DAV College(DAVC- Dayanand Anglo-Vedic College)
Sri Guru Gobind Singh College
Mehr Chand Mahajan DAV College for Women
Post Graduate Government College for Girls
PGIMER Chandigarh
1) DAV College (DAVC- Dayanand Anglo-Vedic College)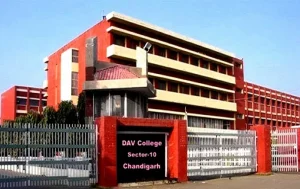 DAV College was built in 1958 and is a coeducational college located in Chandigarh, India, and associated with Chandigarh's Punjab University. The college provides a wide range of undergraduate and graduate courses. It is located in Chandigarh's Sector 10.
DAV College is proud of its outstanding achievements in academics and the arts. The unique, state-of-the-art infrastructure is designed to provide equal opportunities for all students to explore and improve their personalities through a diverse range of extracurricular and academic activities. The College's focus is on providing a stimulating environment that fosters growth, development, and creativity.
2) Sri Guru Gobind Singh College
Sri Guru Gobind Singh College was the first coeducational college established as a legacy of Guru Gobind Singh Ji's ethical and spiritual consciousness, it has evolved to meet the region's changing educational scene.
A few essential details regarding Sri Guru Gobind Singh College 
Sri Guru Gobind Singh College is a well-known coeducational college that provides undergraduate and graduate programs.
This college is affiliated with Punjab University in Chandigarh. And is driven by a strong passion for supporting higher education and providing students with an excellent learning experience.
The college has a rich history spanning fifty years and has produced numerous outstanding administrators, academicians, intellectuals, athletes, artists, engineers, physicians, scientists, and many more.
In the areas of educational curriculum, research and development, placement and co-curricular activities, artistic endeavors, social and religious programs, student welfare, and infrastructure development.
The college consistently adopts and implements growth and expansion strategies.
3) Mehr Chand Mahajan DAV College for Women
Mehar Chand Mahajan D.A.V. College For Women – MCMDAV is a well-known College based in Chandigarh, India, established in 1968. Mehar Chand Mahajan D.A.V. College For Women – MCMDAV is a Private) College that primarily teaches ARTS/ SCIENCE/ ENGINEERING/  LAW ETC. The institute aims to deliver quality education to improve individual performance and raise professional standards through creative training programs in many disciplines, research, and extension activities.
Facility provided by MCM DAV college
MCM's teaching staff come from a variety of sectors and have a wealth of knowledge in the fields they teach.
They employ contextual theories to describe the management principles of today's corporate circumstances.
This unique technique allows students to effectively learn the details of concepts.
4) Post Graduate Government College for Girls sector 11, Chandigarh
The college was founded in 1956 to provide excellent higher education for women. It is affiliated with Panjab University and has received NAAC accreditation with an 'A' grade. Currently, the institution offers undergraduate & certificates in the areas of Arts and Humanities, Languages, Commerce, Management, Computer Application, and Sciences. PGGCG Chandigarh offers undergraduate, postgraduate, and doctorate programs. The college provides full-time general or honors degree programs in a variety of specializations. PGGCG-11 admissions are based on academic merit, with a rating depending on quality and seat availability.
Some characteristics of college
The college provides scholarships and financial aid to its pupils from various categories under the auspices of the Government of India.
The college includes a placement cell that provides learners with career coaching and placement options.
PGGCG Chandigarh's infrastructure includes a 35-acre campus, classrooms, round-the-clock CCTV security, substantial IT equipment, a cafeteria, an auditorium, a bank and ATM facility, and other amenities to facilitate students' learning.
5) PGIMER Chandigarh
PGIMER is a prestigious "Institute of National Importance" for medical education and research. It provides students from various disciplines, super specialties, and subspecialties with a comprehensive range of educational, medical research, and training options. A PGIMER is the region's basic medical hospital, serving patients from Punjab, Jammu & Kashmir, Himachal Pradesh, Uttarakhand, Haryana, Bihar, and Uttar Pradesh. Aside from clinical services, PGIMER offers postgraduate and postdoctoral degrees, certificates, Doctor of Philosophy degrees, and fellowships in almost all medical areas. The institute provides over fifty courses in various medical specialties.
A few essential details regarding PGIMER 
PGI is well-known for providing superior clinical details to resident doctors.
Infrastructure in terms of a number of specialties – clinical, paraclinical, and allied medical science – is the best in the region, supported by research institutes.
The central government institute provides excellent financial support, and the student stipend is excellent.
Conclusion:-
Chandigarh is well-known for having excellent educational institutes and colleges. Chandigarh, the capital of two Indian states, Punjab and Haryana, has a reputation for delivering high-quality education and attracting students from all over the world. To end, we have provided a list of the top colleges in Chandigarh. All those colleges provide a wide range of courses and activities. All of these universities have excellent facilities and charge reasonable tuition. You have a great chance to choose the best option that suits your requirements.
FAQs
Which one is the best college in Chandigarh?
Ans:-  PGIMER (Postgraduate Institute of Medical Education and Research) is the best college for medical students.
What is Chandigarh most famous for in terms of education?
Ans:- Chandigarh has become recognized as an educational center with various famous educational institutions and universities.
How many colleges are there in Chandigarh?
Ans:- Chandigarh is home to some of the best colleges in the country. In Chandigarh, there are almost 184 colleges.