10 Tips for Facebook Ad Creatives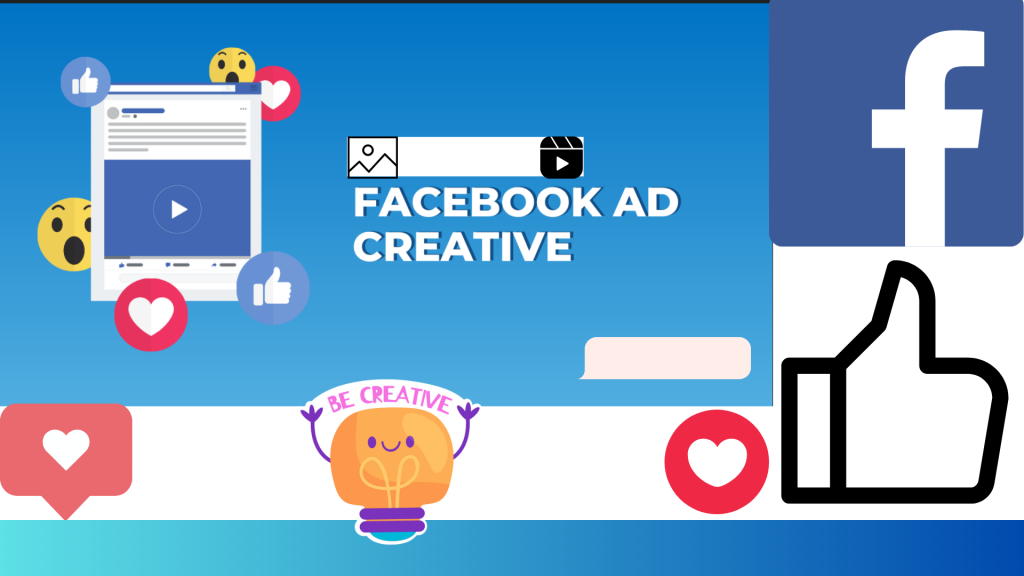 Think about your social media scrolling behavior. What makes you stop and take a second look at a post? Often, the graphic is the one that draws your attention, whether it's a sarcastic GIF, a hilarious cat, or a smiling baby. When running Facebook ads, the best copy is likely to be overlooked if it's accompanied by a mediocre image. So, Here is a solution to upgrade and  customize your Facebook ad campaign.
Tailor made images for your Placements
The Facebook Ads interface lets you select unique images for different placements. Ideally, you should use vertical images in the Story format to fill the whole screen, while using horizontal or square images for the News Feed.
Design recommendations
File type: JPG or PNG
Ratio: 1.91:1 to 1:1
Resolution: At least 1080 x 1080 pixels
Use text smartly
In 2020, Facebook finally did away with the 20% text rule, no longer penalizing ad images for including text. I'd encourage you to test images with text in them, but don't overdo it. Often a simple benefit point will get people's attention more than a text-overloaded image.
Text recommendations
Primary text: 125 characters
Headline: 27 characters
Description: 27 characters
Stock Photography
We've all seen the generic stock photos people insert into their Facebook ads, such as the well-dressed business-people staring coldly into space as they sit around the conference table. While stock photos may offer an easy solution for brands without a designer or good photography, these photos often are less likely to grab attention and don't yield a direct association with your brand.
If you choose to use stock photos, think about adding some sort of branded element, such as your logo, into the ads.
You have the option to include overlaid text specifically mentioning an offer.
Illustrations are one of the creative substitute for stock images
Include Ratings and Reviews
If your business has a four- or five-star rating, include that in your ad imagery! Positive ratings will stand out and encourage people to take a further look.
Including direct quotes from customers helps to establish credibility, whether they're citing the
problems that led them to seek out the product or the solutions that came. The use of quotes can create a personal connection in an ad and resonate with those who can identify with the message.
 Cast your own product in imagery
If you're selling a tangible product, show it in use in your ad imagery. People will know exactly what you're selling and how they could incorporate that into their lives. At the end of the day, investing in decent product photography can go a long way. Even if you don't want to pay a professional photographer, buy an SLR camera with a macro lens along with some lights to be able to take quality close-up shots of your product.
Include Events and Promotion offers in your Facebook Ads
If your ad is promoting an event, one of the first questions people want to answer is when the event will take place. Including the dates right into your imagery will answer this question upfront.
If your event involves notable speakers who might be recognized by the people being targeted, add their photos and names into event graphics. You could even make a dynamic carousel ad with multiple faces, names, and topics for events with multiple sessions
You could  mention the venue or city where the event takes place, if it's taking place in
a physical location or a virtual setup.
An additional test could be to include a "Register "button graphic directly within the image. This could help initiate a call-to-action to sign up.
Mention an Offer
If you're promoting a discount or something for free, a peak season offer , put it in front directly to  your customers through your ad creatives, It will drive more engagement from your audience and will promote your brand more .
Use Carousel Ads to Tell a Story
Use the multiple slides in a carousel ads to tell a story, making sure the slides fit in a mashable style adhering to a  common theme. This allows you to create a story that people are compelled to read and absorb quickly .
Walking through a setup process step-by-step.
Highlighting a handful of major features.
Showing problem/solution steps (or before/after images if applicable)
START CREATING !

E BOOK  :Facebook-Ads